Quality Control
JENDAH Quality Securing Philosophy
JENDAH fosters a culture of quality where employees prioritize customers above all else. We continuously seek to improve our products and services to exceed customer expectations. Our devotion to quality is embedded in our core values and is the driving force behind our success. At JENDAH, we strive to treat our customers like kings, actively seeking their feedback to improve our products and services. We believe that our commitment to quality sets us apart from our competitors and are dedicated to delivering exceptional value to our customers.
They relentlessly Improve product and service quality. Exceeding customers' expectations has become the faith at JENDAH.
---
Total Quality Control System-Fundamentals to Secure Your Reputation
1.The Utmost Quality and Service system
JENDAH has complete and advanced QE programs enhanced by after service follow up.
2.The Best Components & Materials
JENDAH insists using best materials and installing the best parts in the market. The overall parts and machine bodies' life are much longer than competitors who use general or inferior parts.
3.The Precise Production Machinery
With advanced tools and machines, JENDAH can make products consistent and cost-effective with good quality.
4.The Finest Workmanship
Our stable, highly skilled work force, many of them have worked for JENDAH for more than 10 years, takes over where the automated machines leave off. They consistently and rigorously test their work to pursue the best quality.
Four competencies generate SYNERGY to have the Most RELIABLE and VALUEABLE products & Services.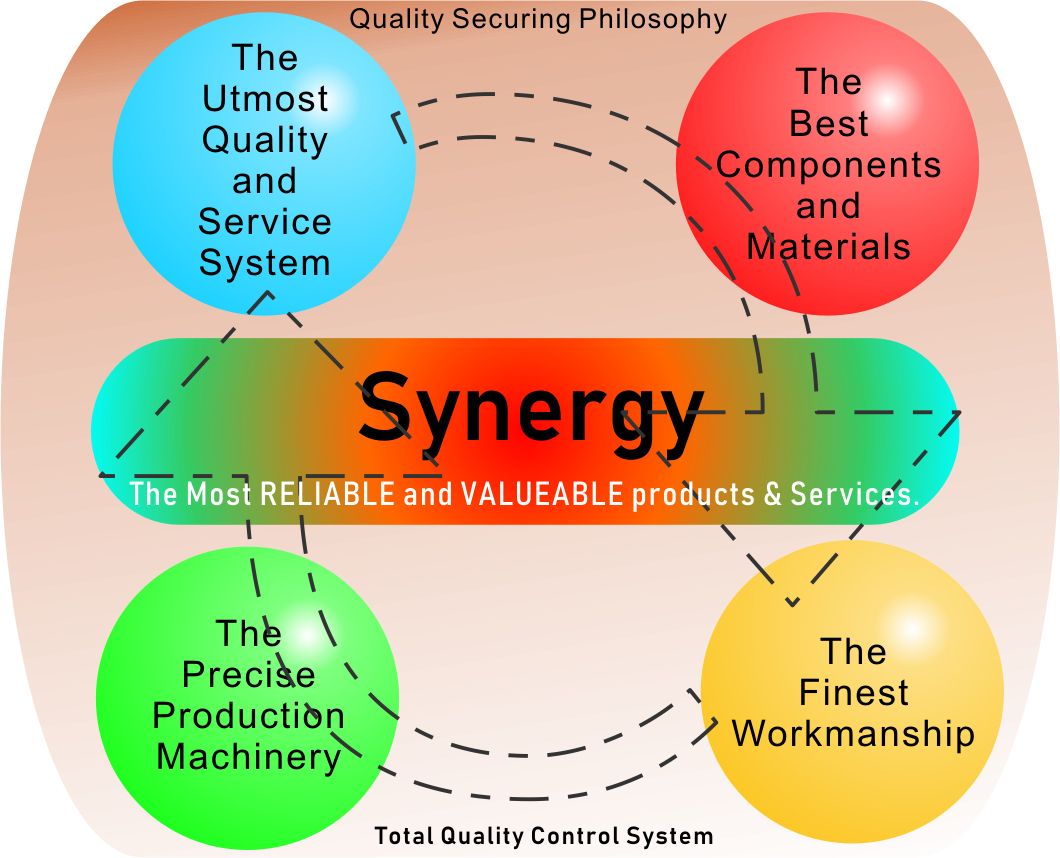 A Complete Quality Engineering Program-Advance Deployment Before Quality Control
DQE(Design Quality Engineer)
Advanced design tools+Reliability tests+Design mapping tools
Compliance to International standards (IEC/ISO)
IQC(incoming quality control)VQA(Vendor Quality Assurance)
Incoming inspection per ISO/CNS
OQA(Outgoing Auality Assurance)
Outgoing inspection matrix+Electrical and mechanical inspections
CQA(Customer Quality Assurance)
Field incident follow-up+Issue tracking and solution cutting

A total quality control system is crucial for businesses to consistently meet or exceed customer expectations. It involves investing in employee training, data-driven decision-making, and actively seeking customer feedback. Standardizing processes, implementing quality control checkpoints, and continuous improvement efforts are also vital components. By prioritizing quality and implementing a comprehensive system, businesses can increase customer satisfaction, reduce costs, and build a strong reputation. A total quality control system enables companies to identify and address problems before they escalate and adapt to meet changing customer needs. By consistently delivering high-quality products or services, businesses can build trust and loyalty with their customers and ensure long-term success.